Playing with high quality basketball makes your wishes to become reality as every player who plays this game professionally should use the best balls, not matter if it's for practice or in official games. As we all know, a huge choice is available on marketplace so it's kind of hard to choose the best option from all these choices. You can find basic balls for children, tough balls prepared for rough outdoor matches and pro league basketballs for indoor games like NBA. It really matters, and which ball you choose will impact the game a lot. Before making a choice of which basketball you should get yourself always know where and how you are going to use it, this is just a small part, reading good basketball reviews always helps to make a decision, just don't take everything people say for granted and judge yourself. We personally love to use the same balls as NBA use, but it depends on some other factors; if we have sponsors providing basketballs we are grateful and using them in the games as they are have good quality.
Ball Sizes
Balls are categorized by three sizes: five, six, and seven. As we are a professional basketball club we use official balls at 7 size. Size 6 is used in women basketball and 5 is for kids. It's important to use appropriate size ball as it makes the whole experience as good as it can be.

Some History Of Basketballs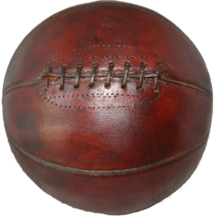 The very first ball was invented in 1890s, it was made from stitched leather and interior bladder made from rubber. Modern era balls are way better so we can enjoy them much more. All today's balls have an inner construction of bladder and surfaces varies a lot, it depends on the ball type and where the game is going to be played. Largest companies making best quality balls are Spalding, Wilson, Nike and Molten – these brands are known for various sports gear and superstar players like Micheal Jordan has his own name shoes made by Nike, it's called Air Jordan series. Wilson started with footballs as the origins are in Europe and we know that football is number one sport in the world and especially in Europe, we would like to note that basketball just just in the 9th position among most popular sports, but gaining popularity fast. The oldest is probably Spalding as making balls was the first thing they started to do since company was created, that was the intention of the company from the very beginning.
We are very satisfied with Baden balls, they are USA made and provides excellent quality.
Types: Indoor, outdoor or universal?
We have several types of balls and these are the following: indoor balls are best and most quality materials are used. Natural leather is very common material, but these balls can be used indoors only. And all others, whatever it would be outdoor or universal can be used everywhere. However, universal basketballs have a little better surface to offer good grip on all courts.
In conclusion, I would like to say that balls are unique, just like every player or individual in the world. The best way to get clear of what type of ball you need is to know where and how you are going to use it, are you going to play outdoors only? Or you need a quality ball to play indoors with your buddies? You have a hoop in your yard and need good ball to play with kids? These are just a few questions you have to answer, in other words everyone should know what intention is.